Join today
pilates (MAT) foundAtions
training
Learn how to become the consumate Pilates Instructor creating and delivering challenging and effective classes. Boost your confidence and master Pilates today.
Pre-course Study
40 hours
Time to complete
6 months
WHy pilates (Mat) foundations instructor training?

Learn how to become an amazing Pilates Instructor, have the confidence to create challenging classes and be a rockstar instructor from day one.
Start your Pilates career today with Aleenta's Pilates (Mat) Foundations Certification. The only course pre-requisite is a passion for Pilates and movement and willingness to learn and immerse yourself in becoming an amazing Instructor.
What differentiates a good Pilates Instructor from an amazing Instructor? A great Pilates Instructor is knowledgeable, confident in their class design and delivery.
At Aleenta Pilates Instructor Training, the Course is structured to ensure you become a confident Instructor from day one. This in-depth course teaches you everything you need to know about the foundations of Pilates philosophy, biomechanics of movement and what makes a great instructor.
We believe how you teach is equally important to what you teach. This is why the face-to-face Intensive is such an important part of the Course. And normally everyone's fave part of the Course! ) You will also enjoy learning from your cohort as you navigate the material.
Many courses expect you to learn class delivery during 'work placement' but in reality during work placement you're not teaching, only observing. In this course, we maximise teaching practice and provide valuable feedback and assessment with an emphasis on class delivery and design. ​

This course is physically and mentally intense, but equips you with everything you need to excel as an Pilates Instructor.
UPCOMING COURSE DATES
Face-to-Face Immersive Dates
Courses can be commenced at anytime. The Course dates below reference the face-to-face intensive dates. When you enrol you'll enrol into chosen immersive dates. When selecting dates ensure you have chosen dates which allow enough time for the pre-work required (approximately 40hrs) per Course.
This face-to-face immersive is online via zoom.
Online Course: 20 - 22 May 2022
Online Course: 26 - 28 August 2022
Online Course: 18 - 20 November 2022
3-DAY FACE-TO-FACE IMMERSIVE
Practical training in-Studio to develop & hone your skills on your body and others.
Face-To-Face: 11 - 13 March 2022
Face-To-Face: 24 - 26 June 2022
3-DAY FACE-TO-FACE IMMERSIVE
Practical training in-Studio to develop & hone your skills on your body and others.
Face-To-Face: 30 March - 1 April 2022 (Retreat)
Face-To-Face: 26 - 28 October 2022 (Retreat)
3-DAY FACE-TO-FACE IMMERSIVE
Practical training in-Studio to develop & hone your skills on your body and others.
Face-To-Face: 30 March - April 2022 (Retreat)
Face-To-Face: 26 - 28 October 2022 (Retreat)
HOW IT WORKS
Pilates (Mat) Foundations Instructor Training is made up of online self-study at your own pace, 3-Day Face-to-Face Intensive, observation hours and a final practical assessment.
Highly Engaging Online & Self-study
Enjoy online learning at your own pace with videos, lessons and quizzes. Each unit includes a detailed visual instruction manual as well as educational video and interactive assessment quiz.
Practical Assessment
The practical assessment tests your knowledge and practical application and ability to deliver the class you have designed.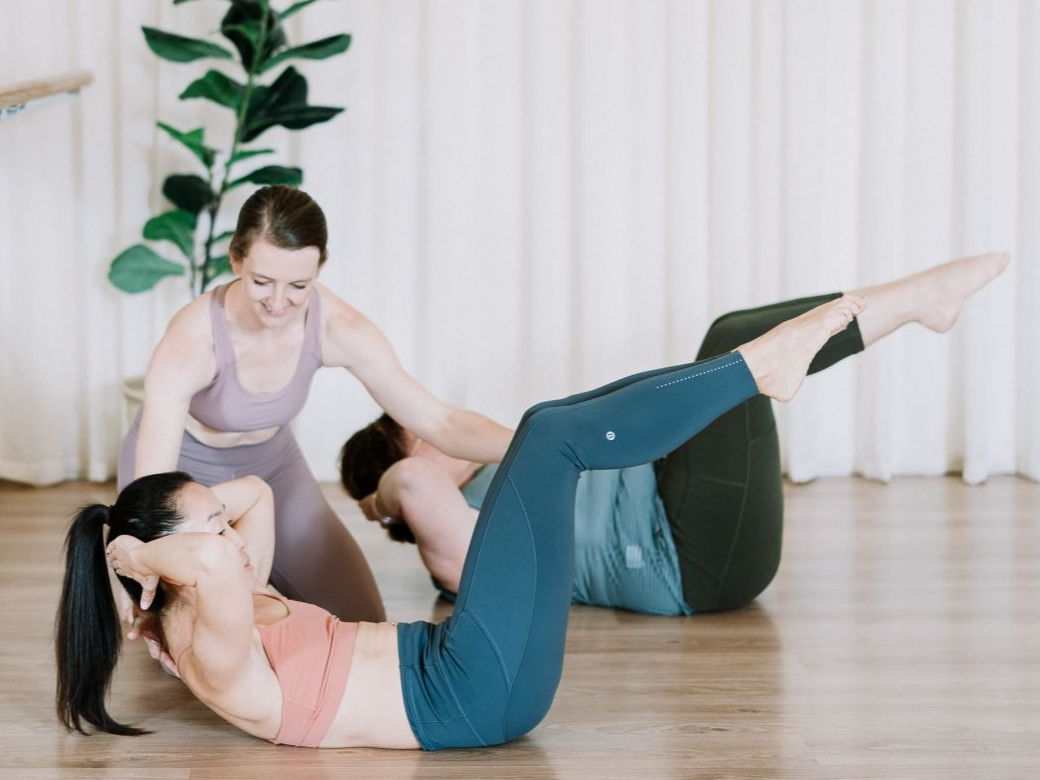 Face-to-Face Intensive
3 Days of face-to-face training. Delivering what you learnt during self-study and applying it to a real world setting. Learn how to craft and develop high quality and engaging classes that will have your clients wanting more!
Observation Class- Reflection hours
Class observation, participation and reflection is essential. Here you will learn tips, trick and skills to create your own voice and style as an Instructor.
CHOOSE YOUR COURSE(S) DATES AND ENROL
COMPLETE ONLINE MODULES AND SELF-STUDY PRIOR TO INTENSIVE
ATTEND 3-DAY FACE-TO-FACE PRACTICAL INTENSIVE
ATTEND 40 CLASSES FOR OBSERVATION AND REFLECTION
COMPLETE FINAL PRACTICAL ASSESSMENT AND SUBMIT ONLINE
SUCCESSFUL COMPLETION OF FINAL ASSESSMENT.

READY TO TAKE ON THE WORLD!
PILATES (MAT) FOUNDATIONS instructor training - course content
foundations of fitness
Anatomy
Detailed anatomy delivered in a fun, informative and easy-to-understand module.
Biomechanics
Essential terminology to understand movement
Exercise
Physiology
Applying the principles of exercise physiology to understand how exercise effects the body's systems.
Postural Assessment
Learn how to observe, analyse and assess posture to provide alignment cue
Exercise Pre-Screening
Learn how to perform an exercise pre-screen and modify for injury, pain and limitation.
Pre & Post-natal Exercise
Understand how the body changes through pregnancy and how to modify exercises for pre and post-natal.
Pilates (Mat) Foundations Training Modules
Combination of online, face-to-face and reflective learning.
History & Evolution of Pilates
Learn about the Founding Father of Pilates, Joseph Pilates and his philosophy. Delve into the evolution of Pilates past, present and future.
Modern Pilates Fundamentals
Learn Pilates terminology and positions. Enjoy an introduction to breathing and core stability which forms the foundations of Pilates.
Foundational Exercises & Techniques
This module incorporates fundamental mat Pilates exercises including Joseph Pilates 34 original Pilates Exercises. Treat it as your Pilates 101 on Pilates exercises and techniques.
Class Design Assessment
What makes a great class? A class which has client centred design. This module takes you through how to create such a class and how to design classes which flow, are challenging and balanced.
What makes a Great Instructor?
Knowing the content is a good start, but how you communicate it is what makes the difference between a good and great Instructor. In this module we teach you the art of tactile and verbal cueing combined with reading the room and how to regress and progress clients.
Class Reflections
An essential element of becoming a great Instructor is reflecting on what works in class design, delivery and style. The best way to obtain this knowledge is through personal experience attending classes at a range of fitness providers in-person and online.
our student feedback...
This course was a great way to sharpen my knowledge and practice of the Pilates technique. Learning about Joseph Pilates' story was really fascinating and eye opening.
The video content kept me interested and the assignments were definitely manageable.
I would recommend this to anyone who wants to become qualified to teach Pilates.
Eloise Murray,
Instructor TRAINING Graduate
Aleenta Mat Pilates Instructor Training was a well-rounded course which included face-to face and online learning. The teachers had a wealth of knowledge to share and were passionate about passing this information on to us, which I am now excited to share with my clients. My favourite part of the course was the three day face-to-face intensive. It was fun to learn from my peers and to have the opportunity to practice tactile, verbal and visual cues in the studio. It was great to be around like-minded people, and Alicia brought an interactive teaching approach, which helped everyone to be confident to contribute and participate. I now feel that I have more Pilates vocabulary and experience to take into my classes and can provide my students with a quality class to make them feel great for the rest of the day!
Amy Dobbs Instructor Training Graduate
Meet the instructor
alicia harvie
Alicia Min Harvie is a contemporary dancer and
performance maker, Master Trainer and Head of the Aleenta Instructor Training School.
She has dedicated 13-years, two Bachelor Degrees, a Diploma in Pilates therapy, a Cert 4 in Training and Assessment to her love of movement.
Having fun exercising with friends, the reward of feeling strong and reaching goals is what drives me to help other people do the same.
Frequently asked questions
Are there any pre-requisites for this Course?
No, there are no pre-requisites for the Course. Our only requirement is you have a passion for Pilates plus some level of familiarity. Prior to commencing, you need to have completed a minimum of 10 Mat Pilates classes.

A great complement to the Pilates Instructor Training is a Certificate 3 in Fitness.
Why should I choose Aleenta Pilates Training over other Courses?
Aleenta Pilates Instructor Training is perfect for you if you are:
> a visual learner and prefer learning face-to-face
> looking to train with a skilled Instructor who wrote the Course, not simply some hired help.
> wanting an experienced Pilates Instructor combined with being an accomplished Studio owner.
> wanting a Course with in-depth anatomy modules
> searching for a Course which helps you learn how to teach not just what to teach.
What if I am unable to attend the face-to-face intensive?
The face-to-face Intensive is essential to completing your qualification. If you're unable to complete it on the time outlined you can join another Intensive interstate or join via our online zoom sessions.
How long does the Course take?
The Course is a total of 150 hours. The includes approximately 40 hours of pre-course online study, 3 day face-to-face Intensive and further online and self-reflection hours. We recommend allowing 6 months to complete the Course.
What if I cannot complete the Course material in 6 months or I do not pass my assessment?
You need to communicate with us. Should you need furhter time it is important to have this dicussion with your Trainer sooner rather than later. If you do not pass the Assessment and need to re-sit the Assessment the cost is $150.
The Aleenta Pilates (Mat) Foundations Course is a Fitness Australia Approved CEC Program. Participants who successfully complete the Program will be eligible to attain a total of 15 CECs from the Course.
Bundles

Save $$$ by purchasing a Bundle of Courses. Up to 2 years to complete.
Created with