Join today
reformer
pilates
TRAINING
Learn how to become an amazing Pilates Instructor, have the confidence to create challenging classes and be a rockstar Instructor from day one. Boost your confidence and master Reformer Pilates.
Pre-requisites
Pilates (Mat) Foundations
Time to complete
6 months
WHy Reformer pilates instructor training?

Learn how to become a confident Reformer Pilates Instructor and create challenging and effective classes.
This in-depth course teaches you everything you need to know about applying the the foundations of Pilates technique to the reformer machine.
You will learn all about the Reformer Pilates Machine combined with an extensive repertoire of 200+ exercises on the Reformer. You will also learn the importance of safety and how to set-up your clients for success.
There is a strong focus on guiding you how to teach and be a great Instructor. The exercises are only one part of the course, how you deliver the class is just as important.
During our 3 day Immersive, you will spend time learning how these exercises feel on your own body and how you can use this to teach your clients.
This course is physically and mentally intense, but equips you with everything you need to excel as a Reformer Pilates Instructor.
UPCOMING COURSE DATES
Face-to-Face Immersive Dates
Courses can be commenced at anytime. The Course dates below reference the face-to-face intensive dates. When you enrol you'll enrol into chosen immersive dates. When selecting dates ensure you have chosen dates which allow enough time for the pre-work required (approximately 40hrs) per Course.
This face-to-face immersive is online via zoom.
Online Course: 27 - 29 May 2022
Online Course: 2 - 4 September 2022
Online Course: 25 - 27 November 2022
3-DAY FACE-TO-FACE IMMERSIVE
Practical training in-Studio to develop & hone your skills on your body and others.
Face-To-Face: 18 - 20 March 2022
Face-To-Face: 1 - 3 July 2022
3-DAY FACE-TO-FACE IMMERSIVE
Practical training in-Studio to develop & hone your skills on your body and others.
Face-To-Face: 8 - 10 April 2022
Face-To-Face: 4 - 6 November 2022
HOW IT WORKS
Reformer Pilates Training is made up of online self-study at your own pace, 3-Day Face-to-Face Intensive, observation hours and a final practical assessment.
Highly Engaging Online & Self-Study
Enjoy online learning at your own pace with video, activities, lessons and quizzes. Each unit includes a detailed visual instruction manaual as well as instructional video and interactive quiz. Learn the concepts visually and also view them being demonstrated. Test your understanding of the material.
Practical Assessment
The practical assessment tests your knowledge and practical application and ability to deliver the class you have designed..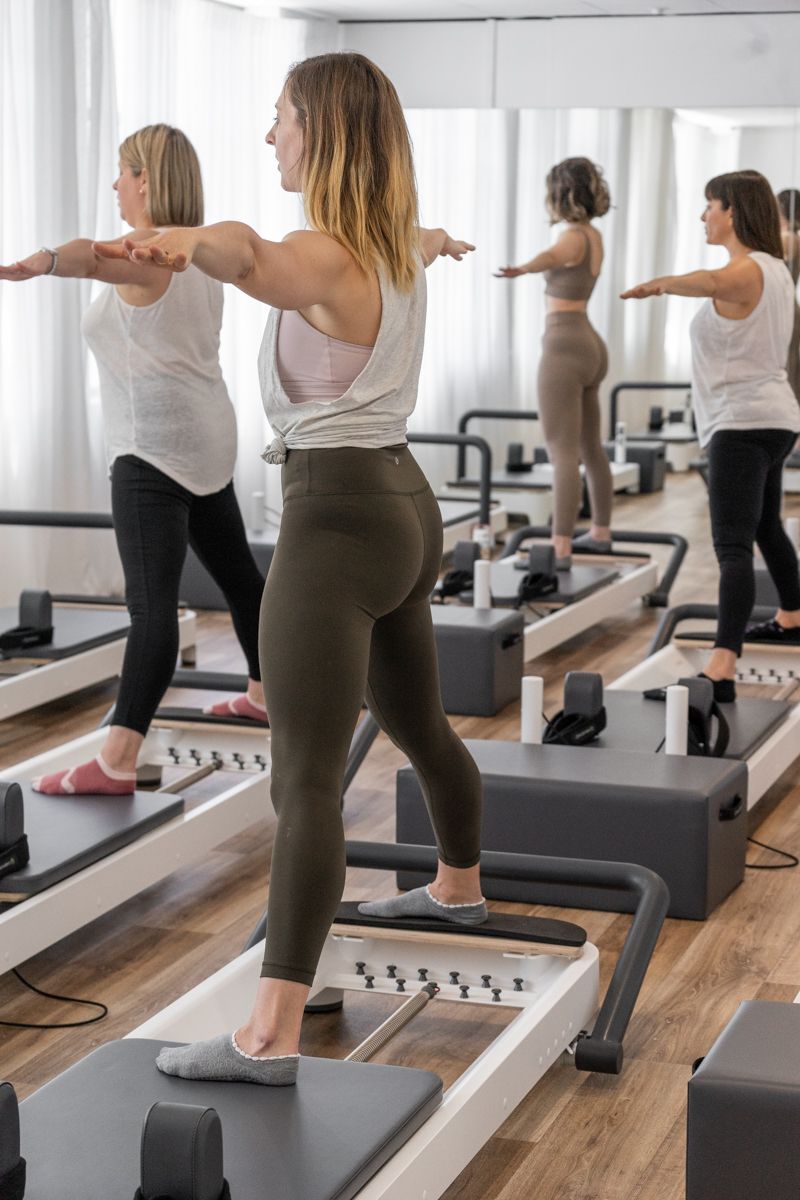 Face-to-Face Intensive
This is where it all comes together and you apply your online learning in real life. Experience how to design effective classes, explore how the exercises feel on your body and practice your class delivery. Enjoy the small classes and learn from your fellow Course attendees.
Observation/Class-Reflection
Class observation, participation and reflection is essential. here you will learn tips, tricks and skills to create your own voice and style as an Instructor.
CHOOSE COURSE(S) DATES &
ENROL
COMPLETE ONLINE & SELF-STUDY
PRE- INTENSIVE
ATTEND 3-DAY FACE-TO-FACE/ ZOOM PRACTICAL INTENSIVE
ATTEND 40 CLASSES FOR OBSERVATION AND REFLECTION
COMPLETE PRACTICAL ASSESSMENT & SUBMIT ONLINE
SUCCESSFUL COMPLETION

TAKE ON THE WORLD!
barre instructor training - course content
foundations of fitness
Anatomy
Detailed anatomy delivered in a fun, informative and easy-to-understand module.
Biomechanics
Essential terminology to understand movement
Exercise
Physiology
Applying the principles of exercise physiology to understand how exercise effects the body's systems.
Postural Assessment
Learn how to observe, analyse and assess posture to provide alignment cue
Exercise Pre-Screening
Learn how to perform an exercise pre-screen and modify for injury, pain and limitation.
Pre & Post-natal Exercise
Understand how the body changes through pregnancy and how to modify exercises for pre and post-natal.
Reformer Pilates Training Modules
Combination of online, face-to-face and reflective learning.
History & Principles of Pilates
Learn the origins of Reformer Pilates and the philosophy of Contrology applied to the Reformer. We also discuss Clinicla Pilates and why it has adopted the Reformer?
Reformer Mechanisms & Safety Considerations
The anatomy of the Reformer, equipment maintenance & safety. Then apply this knowledge practically on the Reformer.
Foundational Reformer Pilates Exercises
Learn fundamental exercises for the Reformer Pilates machine. We cover these during our face-to-face intensive so you can experience these exercises on your body and others.
Reformer Pilates Class Design & Assessment
How to structure flowing, balanced and challenging Reformer Pilates classes. You will create your own class and be assessed on your class creation and execution.
What Makes a Great Instructor?
How you communicate your knowledge is equally important as what you are communicating. Learn how to inspire and motivate your class to achieve their individual goals via tactile and verbal cueing combined with regressing and progressing clients.
Class Reflections
An essential element of becoming a great Instructor is reflecting on what works in class design, delivery and style. The best way to obtain this knowledge is through personal experience attending classes at a range of fitness providers.
our student feedback...
I found the Aleenta Reformer Pilates course interesting, challenging, and rewarding. The content had a lovely flow through the different topics, was easy to work through with both written and practical assignments. The comments from my tutor were always very encouraging and positive, I especially enjoyed the face-to-face Training days.
CARLEY BEZZINA, REFORMER PILATES INSTRUCTOR TRAINING Graduate
I really enjoyed the Aleenta Reformer Training. We had a 3 day intensive with Alicia, who is so knowledgeable. We learnt how the reformers work and compared different models, as there are many different kinds and it's handy to know the differences and similarities. She also taught us the wide range of Pilates exercises possible on the reformer, including using jumpboards and boxes in many different ways. I learnt so much in these three days and throughout the rest of the course. We completed our own research on the history of Pilates, and Joseph Pilates himself, and how he developed the reformer and his other apparatuses. By the end of this course I really noticed myself becoming a much better instructor. I am still wanting to learn more and will keep doing so through my teaching.
TIPHENIE EVANS, REFORMER PILATES Instructor Training Graduate
Meet the instructor
alicia harvie
Alicia Min Harvie is a contemporary dancer and
performance maker, Master Trainer and Head of the Aleenta Instructor Training School.
She has dedicated 13-years, two Bachelor Degrees, a Diploma in Pilates therapy, a Cert 4 in Training and Assessment to her love of movement.
Having fun exercising with friends, the reward of feeling strong and reaching goals is what drives me to help other people do the same.
Frequently asked questions
What are the Course pre-requisites?
You must have completed a Foundational (Mat) Pilates Course prior to undertaking the Reformer Pilates Instructor Training. You can undertake this Training through Aleenta Instructor Training or another provider. We also require you to undertake a minimum of ten Reformer Classes prior to commencing the face-to-face Intensive. But the more the better!
What on-going support do I receive?
For two weeks prior and two weeks post the face-to-face intensive you will have online access to our Master Trainer and support team to complete the pre and post work requirements. There is a community tool set up so that you can communicate with your class peers and Master Trainer over this 4 weeks period.
How long does the Course take?
The Course is a total of 150 hours. This includes approx. 40 hours of pre-Course online study, 3 days face-to-face intensive and further online and self-reflection/observation hours. We recommend allowing 6 months to complete the Course.
Is the Reformer Pilates Course Certified?
The Reformer Pilates Instructor Training Course is a Fitness Australia Approved CEC Program. Participants who successfully complete the Program will be eligible to attain a total of 15 CECs.
Bundles

Save $$$ by purchasing a Bundle of Courses. Up to 2 years to complete.
Created with